Hello to all Serey,
Movie review
It begins with a landscape of a forest located in Medieval Scotland, where this is a royal family made up of a pope, a little girl mother about four years old, mother Elinor and daughter Mérida play hide-and-seek, having fun in that majestic place, while his father King Fergus, are hunting for lunch. places his hunting weapon (bow and arrow) on the table, to which Elinor says that the weapons are not placed in that place, Mérida, seeing her father's weapons, asks her if she can launch the arrow, to What her father Ferbus looks at her tells her why not, but instead of giving her his weapon, he gives one to Mérida because it is her birthday, to which they with eyes of amazement and joy upon receiving the gift of her father. In that same place he takes his daughter to learn the use of the arrow, but her mother does not agree with that gift, she is a girl to use that type of weapon, but her father Ferbus very happy teaches her the use of it
.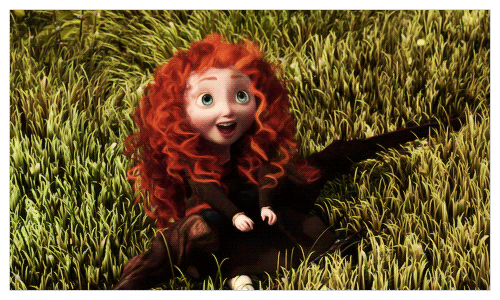 Source
But in the middle of her learning Mérida fails, the arrow goes deep into the forest, Mérida goes in search of her, when she finds the arrow she hears a strange sound and is scared, suddenly she observes a magical blue light, that expresses "A magic light" begins to follow the light, but before entering the depths of the forest her mother calls her, they leave.
She reaches her parents, tells her that she saw a magic light, her mother replies that they say that those lights guide her to her destinations. But his father with his witticisms say that if it is not an arrow, he suddenly gets a big bear, which attacks the family, but King Fergus realizes and begins to fight with the bear in defense of his family, while Elinor with his daughter flee in a hair, in the fight the bear attacks his father, from that fight he loses his leg.
Time passes now Mérida, she is no longer that little girl if a teenager, who lives in a castle with three brothers, her family is made up of 6 people. But because Merida is the eldest daughter, she has responsibilities to the kingdom, she must learn to make a princess behave as such, she has duties and responsibilities that she must fulfill. What Mérida does not like because her personality is that of a free girl, who does not like me imposing things on her.
Mérida has felt that her mother is not the same as before when she was a child, funny and smiling, but now you impose duties on her that she does not like, because she does not want to be like her mother the Queen, at that time of adolescence It must be an ordeal to live that, more than every day she feels that between her mother and her she is moving away due to her grandeur. While Mérida when she is with her father is different, it is fun, she lets her be free, use the bow and ride her horse in a way that is very different from her mother.
But apart from the responsibility of behaving like a princess to become a queen, Mérida has the obligation to marry one of the first-born Macintosh, MacGuffin and Dingwall, these are clans that have battled with their father, to choose who will get the hand. From Mérida, a tournament will begin, weapons to be without are worthy of obtaining the hands of her daughter.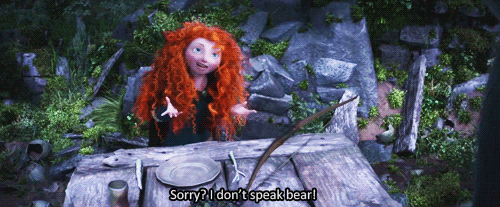 Source
Merida selects the Weapon that they will use in the tournament, it is the bow and arrow. The tournament starts, each prince throws an arrow, but suddenly a fourth competitor arrives who was not programmed, everyone present is surprised who the hooded competitor is, when suddenly this is discovered and everyone observes that it is Princess Mérida, he expresses that She, because she is the Firstborn, will fight for her destiny, in which Elinor gets up and tells Mérida not to do it, to which the young woman takes an impulsive way to take the opposite of her mother, throws an arrow and eliminates the previous three launched by the other princes. Her angry mother takes her into the room and tells her that this must not be done, that she must behave like a princess.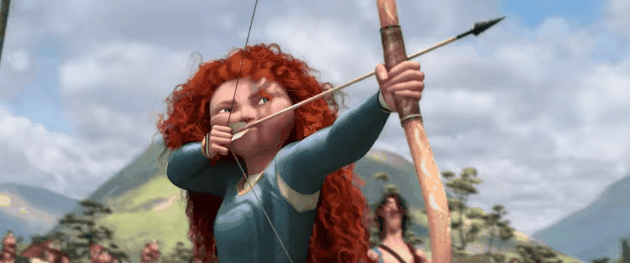 Source
After fighting her mother, Mérida fled to the forest mounted on her horse, on the way she found the blue lights that appeared to her when she was a child, she remembered that her mother told her that it was magical to guide people to their destinations, Mérida followed her to the depths of the forest, until she found an old cabin, where inside it was an old woman, a wood sculptor, but she wasShe realizes that not only is she a witch, she asks her to give her something that her mother gives her, the witch gives her a cake that tells her that by eating it everything will change, but she tells him that once that same potion she gave it to him. gave to a prince who did not do well, Mérida obvious the message you think that with her mother eating that cake her mother will change her mind.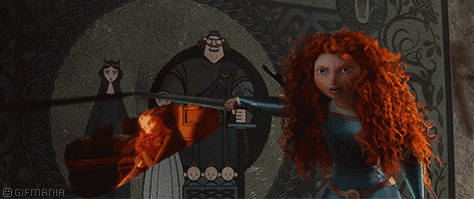 Source
Mérida leaves the forest, arrives at the castle, in that she looks for her mother to offer her the cake in peace, her mother takes it in her hands and tastes a bite, which makes her feel bad. Merida takes her mother into the room, leaving a piece of cake on the table. When she gets to the room her mother passes out in the room, when Merida realizes that her mother has turned into a bear.
In that they both have to flee from the catillo, because their father the king hates bears, to put the life in their mother safe and solve it they both go to the forest. But during that time things changed, there is a very different attitude between mother and daughter, they became more united, they are all together helping each other, without righteousness being present, the duties as queen, they saw each of them inside because each one, in this way the story continues.
Analysis and / or teaching
This is an animated Disney / Pixar movie, released in 2012. It is a movie that has the plot of a rebellious princess, who wants to change her destiny, but in that she gets a curse that she must undo at all costs, but this makes her mother she strengthens a bond that they had already lost.
This is a movie that you can watch as a family, I like to enjoy it with my daughter, because they always teach you:
- Among the teachings of this film, it is the bond that we must have with our children, strengthen it day by day, be together with them, share, not just place imposing on it because society demands it. Let's talk with our children what they like or want for their future. There will be things that we must correct as parents, but let's be those parents I knew protective that we do not give a vote of confidence.
- Communication is another lesson that this film leaves us. We should take the time to spend talking with them.
- In turn we see how the mother fights in the form of a bear to defend her daughter. I think that if it were me, the same thing would happen, I would become like a bear, or lioness in defending my daughter from any evil or person who is going to hurt her.
I invite you to prepare your popcorn share with your children and family.
https://youtu.be/2-nkFsr-HPc