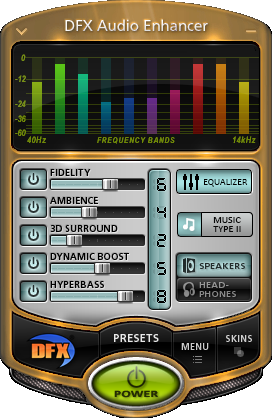 Hello, friends. Today I will tell you about a plugin. Which is a really complicated thing. With this plug-in, listening to music or listening to the sound of pictures will be done in one word. Once you listen to music with this plug-in, you will no longer enjoy listening to music without this plug-in.
This plug-in will give some effect to your sound which is really nice. Not only sound effects but his alertness and dedication too are most required. You can use it on headphones in addition to speakers.
The other benefits you will get are:
Advanced audio enhancement effects DSP
Speakers and Headphones Optimization
Finely tuned, Customizable Music Presets
Spectrum analyzer dynamic sound
Powerful audio processing modes
Design, shapely skins
Space Saving Mini-mode Interface Presets
Backup and Restore
Preset Song Associations
5.1 / 7.1 Surround Sound Support
64-bit Windows Support
3D Surround Sound - Immerse yourself inside the music
Ambient Stereo - Renew lost stereo depth High Fidelity Restoration
Dynamic Gain Boosting - pump up the volume
Headphones Optimization - hear more pleasant, natural sounds with headphones
Customizable Music Presets - Select finely-tuned settings for many styles of music
Rise HyperBass - produce deep, rich bass sounds
High Fidelity Restoration - eliminate that "muffled" sound
Spectrum Analyzer - "See" DFX enhance your sound
Music and Speech Modes - Get optimized sound for any audio
Customizable Skins - Choose from hundreds of skins
Everything is said here, but I can say that you can give 3D sound effect with this plug-in. You will get both fun and comfort while listening to music with headphones. You will get different colored skins.
The players that this plugin supports are:
Windows Media Player (32-bit)
Windows Media Player (64-bit)
Winamp
RealPlayer
J. River Media Center
Musicmatch Jukebox
iTunes New
There is a separate plug-in for each player. Install what you need. I've tried Windows Media Player & Winamp.
Which supports all operating systems:
Windows NT / 2000 / XP / Vista / Win7 (32/64-bit) and Windows 8
If you want to understand its effectiveness, listen to the song once with this plug-in and try off the plug-in again. Only then can you understand the difference.
Thanks everyone visiting my blog