Today I have appeared before you again with an interesting recipe post. Today I am going to share with you a recipe of puishak with lentils. I don't like to eat vegetables, but I have eaten too little. That's why I'm trying to eat a little lately to bring some balance. That's why I try to eat this vegetable in different ways at different times. It is also good to eat puishak with such dal and in some cases it is good to eat it even if it is cooked with small puti fish. Or it tastes good if cooked with shrimps and fish. Today I am sharing with you the fun cooking with dal.

Necessary Materials

Musuri dal
Puishak
potatoes
onion
pepper
ginger batter
garlic paste
garlic cloves
Turmeric powder
Chilli powder
cumin powder
Panchfodan
the oil
salt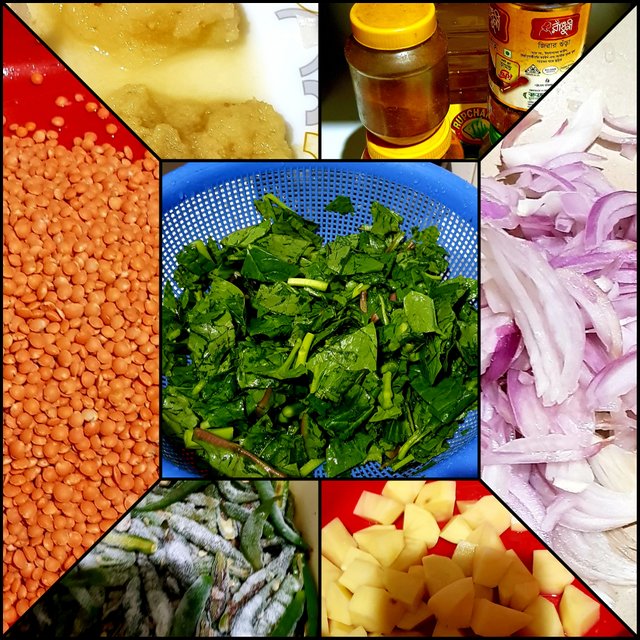 | | |
| --- | --- |
| | |
| --- | --- |
| | |
| --- | --- |
---
First I soaked the lentils in water for half an hour. Then I cut the vegetables and washed them cleanly. After that, I cut the potatoes into small pieces. Then I put onions in a pan. Now put turmeric powder, chili powder, salt, oil, ginger paste and garlic paste inside the onion.
---
---
After kneading everything well by hand, I spread it more nicely with the branches inside it. After that, I gave the potatoes and vegetables.
---
---
After that, I rubbed it nicely with my hands. Then I covered it with a lid. After a while, after opening the lid, I will see that quite a bit of water has come out of the vegetables and the vegetables have become soft. With the lid open, I stirred it for some time and cooked it for some time.
---